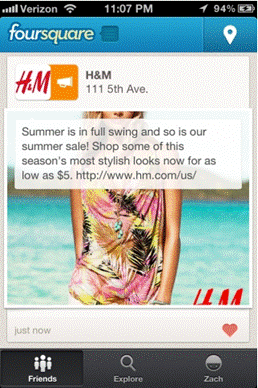 You probably know by now that Foursquare is huge and can help you market your business. However, a lot of businesses and marketers as well don't know how to make the most out of this location based social media. Many of them are just using Facebook places and Google maps and think that they have done what they could. This is absolutely wrong! Before reading this Foursquare guide, sign up at the platform and be prepared of having outstanding results by covering the gap between your business and your offline audience.
1. Claim your business
The first step a business should do after joining Foursquare is claiming their business physical locations. After listing the name of your business and the location, the next thing is to  join the category that your business falls under. The most important categories on Foursquare are:
Arts & Entertainment
College & University
Food
Nightlife Spot
Outdoors & Recreation
Professional & Other Places
Residence
Shop & Service
Travel & Transport
Remember that you should choose the category that best describes your business. These main categories have also specific subcategories that you should also choose according to what your company represents. The next and final step is the most important one. You should fill out as much as information you can in order to help you customers. Fill out the phone number, the zip code, even your Twitter account to help your customers find you easily. 
2. Offers
From my point of view, it is actually no use joining Foursquare without intending to offer something really special to your users. Most of businesses are offering discounts and specials by using Foursquare specials. Specials are a great and the most important free way of growing your business by any type of offers attracting new customers and also by congratulating loyal ones.  You can offer discounts, freebies and loyalty specials. Starbucks are making the most out of Foursquare specials by giving for example an extra coffee after joining a specific number of locations on the social platform.
3. Make a page
Creating an official Foursquare page is a great way of managing all your locations online. Users can also follow Foursquare pages which is a great opportunity for larger brands that have multiple locations and a lot of shops. Creating and filling out all the information on a page on Foursquare is a much important as it is in any other social media platform. Be sure you choose the right keywords for your business and brand your page. There is also the opportunity of connecting the page with your Facebook or Twitter pages.
4. Employ your staff
This is a mandatory step when joining the Foursquare. You should talk about it with your staff and how Foursquare can help your business to grow in order to engage them and make them sign in to Foursquare and interact. Spreading the word on the inside will definitely help you on spreading on the outside.
5. Leverage events
Enhancing your Foursquare account with your events is a great way of attracting attendance and also driving interaction with users. As you already know events is an important way of connecting with your audience and building a deeper relationship with them. H&M the huge retailer is taking advantage of Foursquare power and using the platform to make announcement about their seasonal sales and special offers.
Are you using Foursquare? Have you experienced important results? Feel free to share your opinions and thoughts