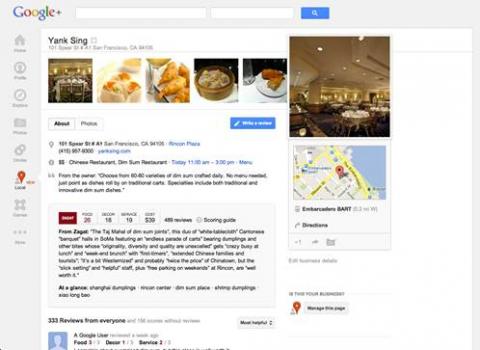 Everyone nowadays is using social media for various reasons. Every business from smaller to bigger ones is now leveraging social media effect to promote their brand. Some of them are joining every social media while others are trying to determine which can give a real boost to their marketing goals. Most of marketers ignore Google+ power and how it can help them.  Google+ nowadays counts over 250 million users, a number that marketer should not ignore.
Most of them just because they are struggling and don't know how to use it. Here are some great ideas on how to use and leverage Google+ for your business.
1. Complete profile
I think that the most important thing you have to remember is to fill out all the information about your business in your Google+ profile. Showing a great first impression with all the information a potential customer needs, is a key to engagement. I know you have a lot of information on various social media however don't be lazy and fill out every information needed. Don't think about it as another social media but think about it as a starting point with a new customer. Imagine that a potential customer might first meet you through Google+. You have to make a good first impression.
2. Keywords
Once again keywords are a fundamental feature to start with when it comes to Google+. It is a rule that you have to make every page that links to your website SEO – friendly so this must be also a rule for your Google+ account. You have to pay great attention on 'About' page as you can spot it as a great opportunity for you to write everything you want about your company. Use relevant and powerful keywords when developing your profile assuming what your potential customers might search about. You may also insert important links to your page that your want users to pay attention on.
3. Events
Google have recently announced the events feature which allows users to send invitations whether they have a Google+ account or not. You can also leverage the Google Hangout feature and make your brand well known when organising webinars, events and parties. There is also the 'party mode' feature that allows user to upload instantly photos of your event and create a real – time effect and eventually a buzz about your company.
4. Photos
You probably know by now and from your other social media activity that users love pictures and photos show great engagement in comparison with simple posts. Leverage pictures that are relevant with your company and your niche market and you will be rewarded. 
5. Posts
Like most of social media in posting you have to show that you are present and keep attention of your audience. There are so many users and businesses out there that you need to stand out and provide something great to your audience.  Don't forget that you can leverage keywords to your posts that can assist you in search results. Google's algorithm depends a lot from Google+ activity. 
6. Promote it
Don't forget that you have to promote your Google+ profile through your website and other online presence you have. It is very important for your brand consistency to put a Google+ badge on your website.  
What about you experiences on Google+? Any great tips or advices on how to leverage the social media for boosting marketing plan?