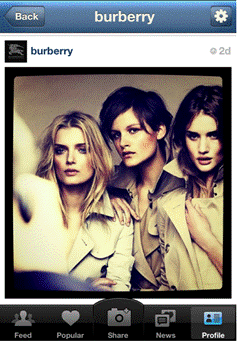 Instagram is huge the last months! This photo sharing app at this time boasts over 80 million users around the world and maintains big fans that adore taking vintage pictures and sharing them with friends. It is also important to notice that among 80 million of users, a 40% is top brands that are leveraging the applications' enormous power. It is true that brands like Starbucks and BBC have now dominated instagram. But more importantly is the fact that Instagram is keep growing with a lot of businesses realizing what they are missing. Here are some insights on how to leverage instagram for your business.
1. Share products
Instagram is a fantastic way of sharing new products and showing people what is the new fuss about your brand. You can also leverage instagram to show the less engaging products you have to the users. Instagram is also a great tool in order to engage your users. Take a picture at a small part of your products and ask your users to guess what it is. This is a great way of engaging them and keeping their attention.
2. Reveal a secret
Instagram is also great app to help you create a certain mystery and show what's behind the curtain atmosphere with your users. A lot of brands are employing this technique. Burberry is a great example of this when the brand is about to launch the new seasons falls and they decide to share with their users their new campaign with a sneak a little preview photo of the new photoshoting.  Starbucks is also a great example of showing what's behind while using instagram. With over 600 thousand of users they are showing about new flavors, how coffees are tested and other 'behind the scene' pictures.
3. Leverage your products
Another great way of leveraging instagram is showing users how to use your products. This might be feasible in certain brands however most of the brands that are employing this technique have effective results and a lot of users. For example, Hermes is a well known fashion brand that sells quality products. When it comes to scarves Hermes is the first brand that comes to a woman's mind. Sharing instagram photos that are showing how a woman could wear a Hermes scarf is a great way of engaging old users and inviting new ones. 
4. Events
The majority of instagram users have showed that people love to take pictures and most importantly they love to share them. When your company is running an event there is now greater way of employing instagram to share pictures and engage visitors of the event. Create a hashtag for your event and upload real time photos of your event. You can also leverage your instagram pics with other social media channels such as Facebook and Twitter.
5. Share more than products
Instagram is a tool that can assist you to develop a certain relationship with your users. A lot of brands are now sharing photos of their offices and pictures of employees with a certain reason. Off course the first thing you have to do is to tell people about your products or services. However, it is good from times to times to provide a picture of a day at your offices or a picture of your community manager, for example. In other words, don't forget to humanize your brand. Instagram can help you do that.
Do your have an instagram account for your business? What is your experience on using instagram? Do you have any interesting stories to share?