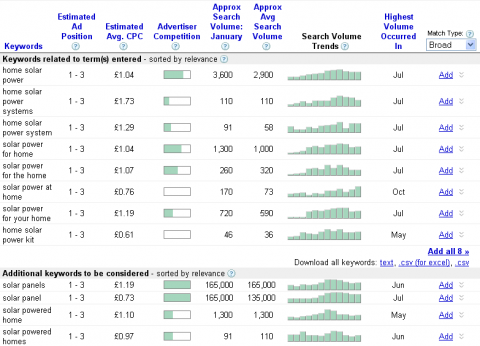 As you probably already know Adwords is a great online marketing tool and a great way to build awareness and bring customers to your website. The tough part of Adwrods is creating effective ads that will bring you customers and make people click on them. Ads are the visible to customers part of your campaign, thus you have to pay great attention when creating your new ads or refining old ones. There are several factors that you need to be focused on in order to have rocking ads on your Google Adwords campaign.
Target group
It is not only about get on your customer shoes is about finding out who your customers is. This should be the first step and first task for you when starting using Google Adwords for your business. First of all, don't freak out. Stay calm and take a paper and a pen and write down about your customers. Who they are? What they like? Who old are them and why do they like your products? These and many more are important answers you should write down and create a customer profile that will help you out when developing your campaign. It is very important to know your customers in order to provide what they want and more importantly talk their language. Imagine you sell skateboards to teenagers and young people and provide strict and formal language with your ads.  This would be a great disaster for your company and will eventually cost you a lot of money. Thus, be prepared. Learn about your customers and try to get closer to them.
Keywords
Keywords are the primary targeting tool for Google Adwords. Thus effective keywords can build effective campaign ads. No matter how great offer you have or how great call to action you provide to your customers, without effective and more importantly relevant keywords, you won't go any further. There are a lot of helpful ways to assist your find the right keywords and here are three of them
Use the Google Keyword Tool! It is effective and it is free. Ideally it is the first thing you have to do before starting to add keywords and bulding your campaign. You can also leverage Google Adwords Tool recommendations to indicate additional keywords, global and local competition and monthly searches and trends on your topics.
Scan your website to indicate which keywords are important to you and your products or services. You can also write down which are the most important and add them to your account. This will also help you have relevancy between your ads and your website.
Leverage your web analytics to indicate which are the keywords that your website visitors are searching for and have triggered them to visit the site. Organic results will help you a lot when building your keywords list.
Don't forget to include your most important keywords on your ad text. This will not only help your relevancy (plus better quality score etc) but will eventually assist you provide to your customer what they actually need.
Ad copy
Off course your ad copy is very important to your ad success. While including the right keywords will target the right customers and bring them to your site crafting an effective ad copy will motivate the users to click on your ads and furthermore get interested on your offerings. Your headlines are very important because it is the first thing that will trigger your user's eye. Your ad copy in cooperation with your keywords will further assist you having good CTR. There are quite a few tricks to have a great ad copy and here are three of them
Call to action: Including a call to action is a key point to your ad text. Inviting your users and providing a strong motivation will have great results to your campaign.
Keywords add: Including keywords to your ad copy will assist your CTR, quality score and further will have a great impact to your ROI.
Value proposition: Divide your products according to your potential customers. Thus, all your campaign ads will only trigger the people you want to trigger and will help you save a lot of money. 
Landing Page
All the effort that we explained above can be totally wasted if you direct your users to the wrong landing page.  In some cases, Google Adwrods can be used to build awareness and bring generally a lot of potential customers to a site. In other cases, Google Adwords is used to motivate and direct users to an offer or a specific product. Thus, you have to be very careful and direct the users to the specific page. If your ad is talking about a great product you sell and the ad directs users to your welcome page, then is more likely that people will bounce and not visit your website again. 
A/B Testing
Eventually the best ad is the ad that brings customer to your website and cost you less money. How can you find which is the effective ad for you? You have to A/B Test your ads. Generate different ad copy with the same keywords and test what works best for you. Change only one aspect of your ad each time and let your ads run regularly. Run your ads long enough in order to have significant results to measure and choose which ad or which ads are the ones you have to keep and which ones you have to pause or delete. Remember that even a great ad have a time limit. Then is the right time to generate new ads and try A/B testing from the start.
What do you thing is more important for Google Ads? What have you learned from your experience?