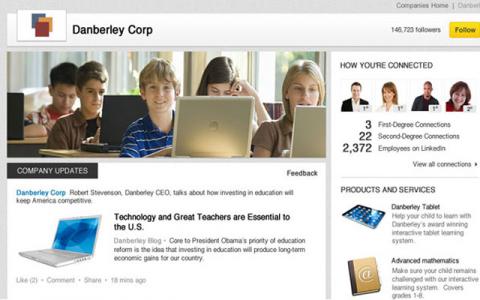 Linkedin is a great professional social media for promoting your professional profile and finding a job. Linkedin was created in order to help people connect with other professionals. Most of people who use Linkedin have this notion and belief. However, Linkedin is not only for personal use but is also a great tool for growing your business and generating leads from it. With over 160 million of business members, and being the 16th most visited website, Linkedin provides great opportunities to those who know who to leverage its power.  Here are some tips that can help you build your company presence on Linkedin.
Basics
You have to set up an administrator and get started with your account. Make sure you add the correct details of your business such as company name, contact details, website, logo etc.
Connections
Make sure you are connected to every people that know about your company. It is very important for your company to have a lot of followers and build a strong network. You can also add people from your email contact list. Linkedin makes it very easily to add people from your email account. Act like the leader of your company and promote your company page. Don't forget to personalize your connection invitations with writing about the reason you want to connect and about your company. Also try to encourage existing employees to make Linkedin profile and help you extent your connections. 
Groups
Groups are also very important when building your presence on Linkedin. Try to join as many groups you can in your niche market. Joining a lot of groups, helps you to be viewed, connected with a lot of people and can add credibility to you and your company. It is crucial to be persistent and active on groups. Join conversations, ask or answer questions and in general, contribute to groups.
Research
Before doing anything you should always research about it. Thus, you should make a small research about groups, connections and your competition.
Keywords
A lot of people believe that their job title must be the same as their heading! Wrong. Actually the heading is a great opportunity to use keywords that are relevant with your company products/ services and market. When people are searching through Linkedin using specific keywords, the results are highly relevant with the keywords you use on header, title, summary. This also aligns to the description of your company. Don't forget to add effective and powerful keywords to the overview of your company.
Products/ Services
Build your products/ services page on Linkedin. At this point you can add images, list of key features or you can provide a link with a special promotion you run lately or a landing page on your website on a specific product. Take the opportunity to add rich media, such as videos that are powerful to users.
Updates
You have to be active and post updates of your company that will keep your followers posted about your latest news, activities and successful stories.  It is important to add value with your updates. People that are on the web are reading so many things about companies and businesses. You have to provide interesting information that can capture their attention.
Monitor
Linkedin provides a great analytics feature that can provide you with results about your effort. Measure your engagement when posting and updating and you will have interesting data about your page.
What do you thing about Linkedin company pages? Any success story about specific company pages?