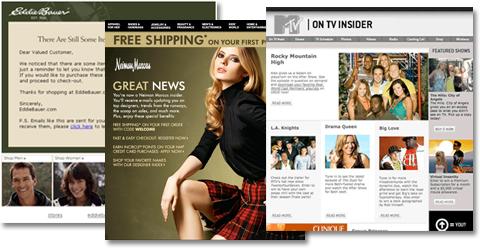 The thing about inbound marketing and the most challenging part of our job is that we are always in search process and we are always testing things. We are always trying to find what's working for us, what cost less and which is the most effective way to accomplish our goals. In online marketing you can never be sure which is the best tactic for your business until you experiment with it and realize that it is working for you. Here are some email marketing elements and tactics you should definitely experiment and test if they suit you.
1. Layout
You should probably think that HTML version of a text about your products would be the perfect choice however you should test if a plain text would do the job and have results. It is true that sometimes recipients prefer to see a plain text version of email rather than an HTML.
2. Images
It is well know that you should include images at your emails however you have to be very careful and smart when selecting your pictures. The best practice is to test which image type works best for you. Try different kind of pictures or memes and monitor your analytics to see which image drive the best lead generation for your company. 
3. Closing
Closing an email is just as important as opening an email. Do you think you have to include a P.S at the end of your message? Test it. Conduct an AB testing and see which practice works best, with or without a P.S. at the end.
4. Day and time
This is probably the most difficult part of your experiments. You have to test which day of the week it is the best to send an email and which part of the day is also important for you. Day and time of an email does matters. Not all times and all days of the week are good to send an email. It also depends on your audience, what they like, how old are them, whether they are unemployed etc. Additionally, it depends on your products or services. After conducting your testing you will have valuable outcomes for your email strategy.  
5. Social media
You have probably already read that you should definitely allow your readers to share your content through social media and allow them to connect with your business profiles through them. However, there are some marketers that argue with that opinion.  According to the belief that the user want to stay on page as long as he wants to, it might be annoying and even disastrous for you to drive them to another page. Again, you should experiment with this. Try AB testing to examine whether social sharing buttons have positive outcomes for you and your conversions.
6. Email size
This is also a controversial subject when it comes to email marketing. Some of marketers think that you have to write catchy and short in order to maintain readers' attention. While others believe that sending a very short email might have negative effect to your strategy, when providing less information. Honestly, the best practice might be somewhere in the middle.  Test whether you need to include more information or you have to send a short message.
7. Subject
Subject is also a crucial part of your email campaign you have to test. Writing great subjects is very difficult to accomplish. Additionally, what defines great?  Test your tone and the way you write on your audience and see what they prefer and on what they actually respond to.
What have you recently tested on your email campaign? What did you examined and how did readers responded? Share your experience