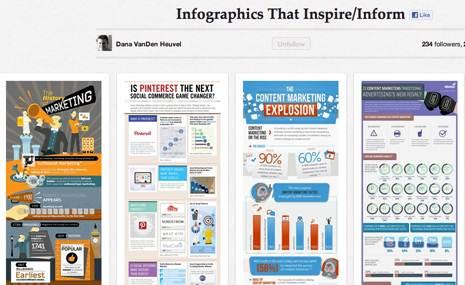 Many companies are now using Pinterest to promote their products and services. However there are a lot of companies out there that are struggling on how to employ Pinterest and make the most out of it. Most of them are B2B companies that initially think that Pinterest has nothing to offer to them and then they find it difficult to achieve their goals. The truth is that it is not very difficult to run your pinterest campaign but you need to pay attention to the details. Here are some tips that can help your B2B business to achieve success.
1.Infographics
A great way of promoting your business in Pinterest is posting attractive and compelling infrographics. Infographics are huge nowadays and people seem to like them and also share them . Try to figure out what your customers like about you and what they want to learn and you will create your infrographic. A well designer inforgraphic that contains valuable information and provides industry related data may lead you to tons of pins and repins.
2.Philanthropy
Every company wants to show off their good karma strategy. Pinterest can be used and leveraged for this reason. The best way to do this is to create a different board about your philanthropy actions and then you can post your related photos and activities. It is a very smart idea of enforcing your brands' ethical profile and makes your followers engage since philanthropy is always a win. Try to keep it simple with compelling photos and marketing oriented descriptions. Pinning images that show your company cares about the greater good will increase your pins and followers.
3.More content
We talked about infographics before but as you may know people are crazy about free stuff and especially when this stuff can provide valuable information. Using ebooks, white papers and cheat sheets is another great way of promoting your company with Pinterest and engaging with your followers. All you have to do is to make them compelling and shareable by posting photos of your ebooks and white papers. If your content is valuable and people like it, it is more likely to repin and share it with other followers. A very successful example of this strategy is Hubspot that have a well known blog about their content. On their Pinterest profile they post photos of their ebooks that are gaining a lot of pins.
4.Show what's inside
Another great idea on how to leverage Pinterest and gain a lot of engagement from your followers is something that works in most of companies. You want to show people what is happening inside your company and share inside company photos. Remember to create a different board about this topic. This is a strategy that instantly humanizes your company and help people create a perception about you as humans and not as a company.
5.Users' photo board
Pinterest is a great tool to open a new relationship with your users. This photo platform allows you to make your users contribute to your boards and engage. For example you can create a specific board with photos your users and make them engage with them. Imagine how great a user would feel when he will see his photo on your brands' board. Then he is more likely to pin and share to his followers.
What about you? Are you a B2B company and using Pinterest to promote your products? What are the ingredients of your success story? Share your experiences and thoughts...